Need a reliable locksmith?
We're ready to help you with all your locksmith needs!
Regardless of the make, model or year of your car B&W Locksmith and Auto Service can cut a new key for you whenever you need it. Should you find yourself stranded after losing or damaging your key we'll come to you 24 hours a day 7 days a week anywhere in the greater Calgary area. We'll assess your needs and make new car keys for you while you wait, then make sure everything works before sending you on your way back to your life. Should your car key need transponder programming we can do that too, as well as program your new fob to lock and unlock your doors.
Precision Work at Affordable Prices for Car Key Cutting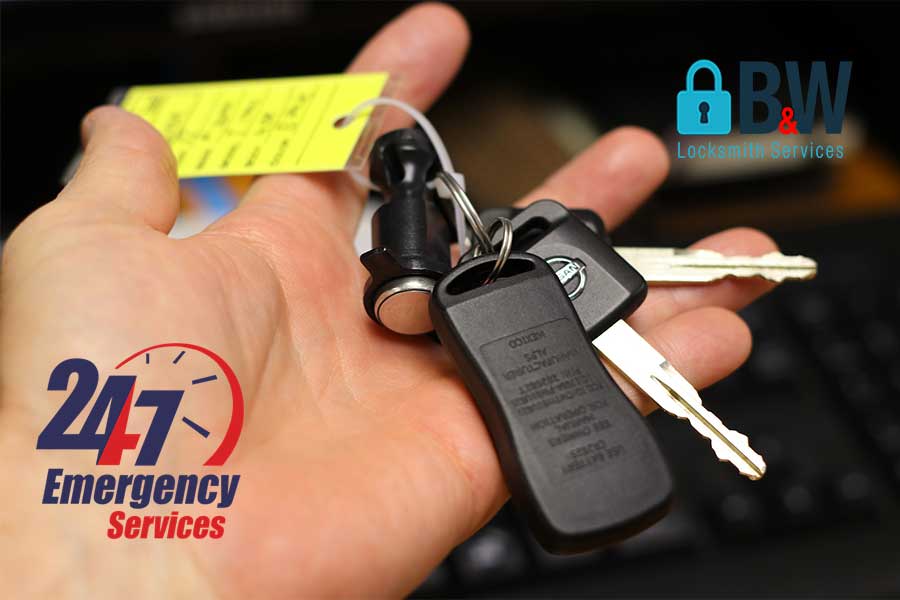 When you're sidelined because your car key has been lost or stolen it's a terrible feeling. How are you going to extricate yourself from the situation quickly and safely? When you call B&W on 403-313-7882  you set the solution in motion. Our highly trained, experienced and friendly automotive lock and key professional arrives in short order in one of our mobile response units and fashions a new key for you for a fraction of what it would cost to obtain one from your dealership.
The New Age of Car Key Cutting
Automobile keys today are nothing like they were when your parents were young. Today's car keys are high tech devices that have integrated security systems that talk to your car's onboard computer. That computer has to like what it hears from your key or it won't allow it to start the car. As such car key cutting today is a multistep process that entails the physical cutting of the key as well as programming of the transponder and door locks.
But even if you have a classic car we can help. Our expert team members will determine exactly the type of key you need and create it for you, often times in just minutes. Likewise, if your key has broken off in the ignition our master locksmith will extract the fragments before creating your new key and enabling you to return to your life unscathed.
24 Hour Coverage Throughout Metro Calgary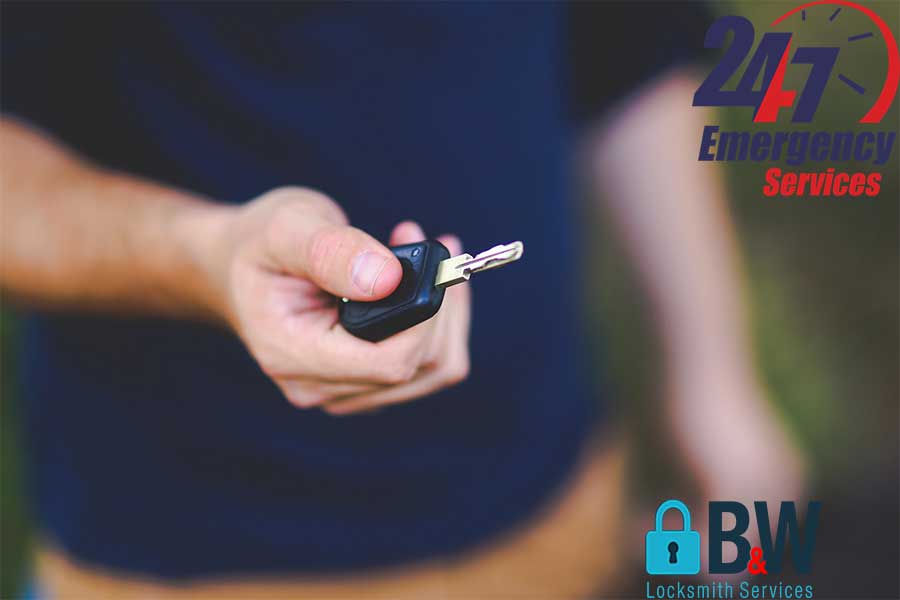 Once you know about our expert automotive lock and key services you'll rest easier knowing that wherever you are in the metro region you're just a phone call away from help should you need it. Key or lock related situations that might have prompted you to call a towing company in days past can now be properly handled by B&W Locksmith Service. You'll save both time and money and when you tell your friends and relatives about us, they will too.
The Advantages of Calling B&W Locksmith and Auto
We've been a part of the Calgary community for a long time and over the years we've patiently and persistently built a reputation for quality work at competitive prices. We understand how disconcerting something like losing your keys can be when you're away from home and so we go the extra mile to put your mind at ease in such situations. We get to you quickly and affect the most appropriate solution in the most timely fashion possible. Whether you need:
…we're the company to call. We're fully licensed and certified and also show up cutting a professional profile, ready to get to work. Whatever car key cutting service you need our mobile response units can handle it. They're full service, mobile locksmith shops outfitted with all the latest equipment and tools and capable of providing whatever the situation calls for. That includes laser cutting, advanced car key duplication and broken key extraction if necessary.
There's no reason to stress out over a lost, damaged or broken car key. Instead call 403-926-3667 at any time of the day or night 365 days a year, including weekends and holidays. We'll come to you and make new car keys that will bring your nightmare to a fast and happy conclusion. Remember, when you need any kind of automotive lock or key assistance don't call the towing company, call B&W. We'll set things right in the fastest, most affordable way possible.